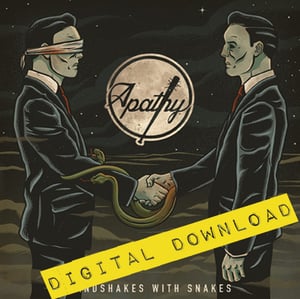 $

9.00
PLEASE READ BEFORE PURCHASING - IMPORTANT: To immediately retrieve your DL link(s) after payment, you must forward the e-mail you receive titled "Your order from Demigodz Store has been received" to DGZmp3@gmail.com and our system will automatically verify your PayPal transaction and immediately send your download link(s).
Digital Download consists of a compressed ZIP file containing DRM-free 320 kbps MP3's of the full album.
PLEASE ensure that your PayPal e-mail address is up to date. That is where your confirmation will be sent to.
Featuring Twista, Bun B, Celph Titled, B-Real, Sick Jacken, Oh No, Ras Kass, O.C., Pumpkinhead, Spit Gemz, Blacastan, Nutso and more.
Championing his fifth solo album in a consistent and longstanding career, Apathy delivers a plate served up with only the finest ingredients that you'd expect from a seasoned lyricist and producer. On this outing, Ap takes you through the perils of the current state of hip hop, corporate phonies and idiotic pop culture. Sprinkle in some trippy tales with vivid imagery plus the right amount of braggadocio verbiage, and the Demigodz frontman brings you full circle via industry rule number 4080. Listeners of this record will become cautious of who they shake hands with. Production duties are handled entirely by Apathy himself, captivating fans on a ride fully orchestrated in his own creative vision while bringing along a handful of carefully selected guest emcees. Having experienced firsthand what it's like to start independently from the dirt, then be entrenched in a major label contract during the peak of hip hop's commercial success, to touring alongside RIAA certified diamond-selling mega rockstars - Apathy's knowledge and wittyness on the subject spills out to be pure audio gold. This project represents those of us not willing to compromise our artistry for fame and money. Can we shake on that?
TRACK LISTING:
01. Intro: An Army With Me...
02. Pay Your Dues
03. Amon RAW (feat. Celph Titled & Pumpkinhead)
04. Rap Is Not Pop
05. Don't Touch That Dial (feat. Ras Kass & O.C.)
06. Charlie Brown (feat. Oh No & Kappa Gamma)
07. Blow Ya Head Off (feat. Marvalyss & Blacastan)
08. Attention Deficit Disorder
09. No Such Thing (feat. Spit Gemz & Nutso)
10. Pieces of Eight (Give Up The Ship)
11. Run For Your Life (feat. O.C.)
12. Moses (feat. Twista & Bun B)
13. Handshakes With Snakes (feat. Sick Jacken, B-Real & Mariagrazia)