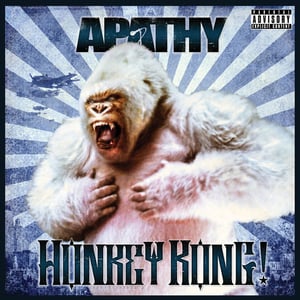 $

13.00
King Kong ain't got sh-- on Apathy, the veteran underground fan favorite from the muthaf--kin' East Coast. Excuse the language, but to put it frankly this self-proclaimed gorilla has torn stages down worldwide and gained an aggresively dedicated following since his first raps surfaced on Jedi Mind Tricks' cult-classic debut in 1997. Always repping his Demigodz, Army of the Pharaohs and Get Busy Committee crew affiliations proudly, the widely talented wordsmith continues his rampage with his 3rd official studio solo album --- "HONKEY KONG". A fitting title for a monster of an LP, this disc features an eyebrow-raising clientele of producers including DJ Premier, Evidence, DJ Muggs, Statik Selektah and Da Beatminerz. Joining forces with Apathy on the mic duties are the upperclassmen of respected MCs with a line-up that features Xzibit, Vinnie Paz, Celph Titled, Ill Bill, Slaine, General Steele (of Smif-N-Wessun), Mad Lion, Action Bronson and his AOTP brethren Esoteric, Outerspace and Reef the Lost Cauze. Released on Apathy and Celph Titled's own label, Dirty Version Records, this marks the first release for the new imprint and will set a monumental tone for their future releases. As a bonus, an extra disc is included which contains 7 bonus tracks from Apathy featuring Eternia, Diabolic, Blacastan and Scoop Deville.
** This is a special 2-CD release that includes a 7-song "Primate Mindstate" bonus disc which also contains the "Honkey Kong" full album instrumentals.
- TRACK LISTING:
01. Honkey Kong (feat. Vinnie Paz)
02. Holy Ghost (feat. Slaine)
03. The Villain (feat. Ill Bill)
04. Check To Check
05. Stop What Ya Doin' (feat. Celph Titled)
06. The Recipe (feat. Xzibit)
07. Fear Itself
08. Who Got Da Juice? [Interlude] (starring Blacastan)
09. It's Only Hip Hop (feat. Brevi)
10. I Dedicate This To You (feat. Tosha Makia)
11. All I Think About (feat. Action Bronson)
12. Never Say Never (feat. General Steele & Mad Lion)
13. Albino Gorillas (feat. Esoteric)
14. Peace Connecticut
15. Army Of The Godz (feat. Esoteric, Blacastan, Reef The Lost Cauze, Outerspace, Motive, Celph Titled & Vinnie Paz)
16. 1:52 A.M.