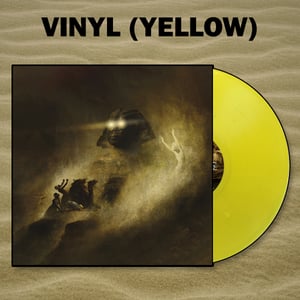 $

30.00
This is a PRE-ORDER. These LPs will ship about ONE (1) week prior to the December 9th release date. NOTE: Any other non pre-order items purchased in the same transaction with this pre-order will ship altogether in one package - no separate shipments.
IMPORTANT: PLEASE make sure your shipping address is correct!
LIGHT YELLOW VINYL - LIMITED TO ONLY 200 COPIES WORLDWIDE!
Album fully produced by Stu Bangas
Featuring Jadakiss, Black Thought, Pharoahe Monch, Celph Titled, Sick Jacken, Esoteric & RJ Payne. Fully produced by Stu Bangas.
Apathy's 8th solo album finds him teaming up with renowned beatsmith Stu Bangas to handle the entirety of the LP's production. The result is a hardcore hip hop opus; uncut and dirty. Flawless emceeing, grimy loops, cracking snares, scratched hooks, and the veteran expertise of not overcomplicating things is what makes this project so beautifully raw. Original fans of Ap with his Demigodz and Army of the Pharaohs counterparts will most appreciate this outing, as he delivers a nonstop barrage of murder-on-the-mic over Stu's deadliest beats. Even further, having recruited heavyweights like Jadakiss, Black Thought and Pharoahe Monch to collaborate on this project, Apathy shows he can effortlessly shine alongside an elite class of greats. Additionally, the album brings out fellow crewmembers Celph Titled and Esoteric, along with Ap's Soul Assassins-fam Sick Jacken, and rap phenomenon RJ Payne.
VINYL TRACK LISTING:
A1. The Kingdom Of God
A2. Malediction (feat. Pharoahe Monch)
A3. Green Olives
A4. No Time To Waste (feat. Jadakiss)
A5. Cry
A6. Face Down (feat. Sick Jacken)
B1. Disgusting (feat. Black Thought)
B2. Draw Blood (feat. Esoteric)
B3. One Man Army
B4. MK Ultra (feat. Celph Titled)
B5. The Devil's Frequency (feat. RJ Payne)