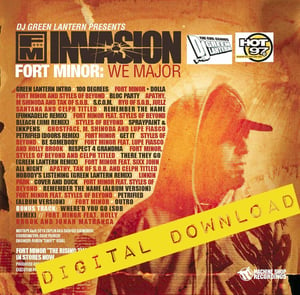 $

5.00
PLEASE READ BEFORE PURCHASING - IMPORTANT: To immediately retrieve your DL link(s) after payment, you must forward the e-mail you receive titled "Your order from Demigodz Store has been received" to DGZmp3@gmail.com and our system will automatically verify your PayPal transaction and immediately send your download link(s).
This Digital Download consists of a compressed ZIP file containing DRM-free 256 kbps MP3's of the full album.
PLEASE ensure that your PayPal e-mail address is up to date. That is where your confirmation will be sent to.
Check your spam folder if the e-mail does not show up in your main inbox.
** SPECIAL EDITION: Includes unreleased "Where'd You Go" Remix which features Holly Brook and Jonah Matranga **
(Released 2005) Get your hands on the classic mixtape that set off the Fort Minor/Demigodz movement back in 2005. This tape was the precursor to Mike Shinoda's Fort Minor "The Rising Tied" project from that same year, in which Demigodz' own Styles of Beyond became a part of. Apathy & Celph Titled, of course, came along for the ride and contributed fan-favorite additions to both the mixtape and album.
- TRACK LISTING:
01. Green Lantern Intro
02. 100 Degrees (starring Fort Minor)
03. Dolla (starring Fort Minor & Styles of Beyond)
04. Bloc Party (starring Apathy, Mike Shinoda & Tak of Styles of Beyond)
05. S.C.O.M. (starring Ryu of Styles of Beyond, Juelz Santana & Celph Titled)
06. Remember The Name [Funkadelic Remix] (starring Fort Minor & Styles of Beyond)
07. Bleach [Jimi Remix] (starring Styles of Beyond)
08. Spraypaint & Inkpens (starring Ghostface Killah, Mike Shinoda & Lupe Fiasco)
09. Petrified [Doors Remix] (starring Fort Minor)
10. Get It (starring Styles of Beyond)
11. Be Somebody (starring Fort Minor, Lupe Fiasco & Holly Brook)
12. Respect 4 Grandma (starring Fort Minor, Styles of Beyond & Celph Titled)
13. There They Go [Green Lantern Remix] (starring Fort Minor & Sixx John)
14. All Night (starring Apathy, Tak of Styles of Beyond & Celph Titled)
15. Nobody's Listening [Green Lantern Remix] (starring Linkin Park)
16. Cover & Duck (starring Fort Minor, Styles of Beyond & Celph Titled)
17. Remember The Name [Album Version] (starring Fort Minor & Styles of Beyond)
18. Petrified [Album Version] (starring Fort Minor)
19. Outro
20. Where'd You Go [S.O.B. Remix] (starring Fort Minor, Holly Brook & Jonah Matranga) - BONUS TRACK