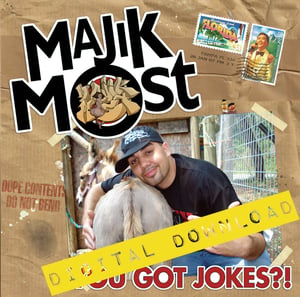 $

9.00
PLEASE READ BEFORE PURCHASING - IMPORTANT: To immediately retrieve your DL link(s) after payment, you must forward the e-mail you receive titled "Your order from Demigodz Store has been received" to DGZmp3@gmail.com and our system will automatically verify your PayPal transaction and immediately send your download link(s).
This Digital Download consists of a compressed ZIP file containing DRM-free 256 kbps MP3's of the full album.
PLEASE ensure that your PayPal e-mail address is up to date. That is where your confirmation will be sent to.
Check your spam folder if the e-mail does not show up in your main inbox.
** SPECIAL DELUXE DIGITAL EDITION: Includes full instrumentals for the entire album! **
(Released 2007) The ingenious rapscallion of hip hop and long time Demigodz affiliate, Majik Most, is back to bombard and blitz the music community once again with his extraordinary new full length album: "You Got Jokes?!". The album successfully delivers just the right amount of lyrical wit, word play and hilarious punchlines needed to bring not just the skill, but most importantly, the fun, back to hip hop. Already heralded as a "masterwork of creativity, imagination, and skill", "You Got Jokes?!" features beats and rhymes from Celph Titled, Apathy, J-Zone, Louis Logic, DJ Cheapshot, Dutchmassive, Laws, PFM, Tzarizm and many more!
- TRACK LISTING:
01. What I'm About
02. Hearin' Voices
03. Ashy Elbows
04. Bananas (feat. Laws)
05. The Tonight Show
06. Father Son Picnic [Skit] (feat. Louis Logic)
07. Back On The Map (feat. Celph Titled & Dutchmassive)
08. Nature Boy (Abusin' Animals)
09. Get In My Van
10. Barbeque Sauce
11. 45 King Interlude (feat. J-Zone)
12. Nothin' But Trouble
13. Wake Up (To Reality)
14. The Majik Most Institute [Skit]
15. Dis-Abilities
16. Cleaning Lady Love
17. The Last Laugh (feat. Celph Titled)
18. Extravaganza Intro
19. Everyone's a Critic [Remix] (feat. Laws)
20. Dolphin Trainer [Skit]
21. Gag Reel
22. What I'm About [Instrumental]
23. Hearin' Voices [Instrumental]
24. Ashy Elbows [Instrumental]
25. Bananas [Instrumental]
26. The Tonight Show [Instrumental]
27. Father Son Picnic (Skit) [Instrumental]
28. Back On The Map [Instrumental]
29. Nature Boy (Abusin' Animals) [Instrumental]
30. Get In My Van [Instrumental]
31. Barbeque Sauce [Instrumental]
32. 45 King Interlude [Instrumental]
33. Nothin' But Trouble [Instrumental]
34. Wake Up (To Reality) [Instrumental]
35. The Majik Most Institute (Skit) [Instrumental]
36. Dis-Abilities [Instrumental]
37. Cleaning Lady Love [Instrumental]
38. The Last Laugh [Instrumental]