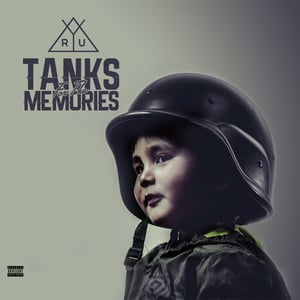 $

13.00
Featuring Everlast, Divine Styler, Celph Titled, Bishop Lamont, Tak, Gravity Christ and Jams.
Styles of Beyond MC and Demigodz frontman, Ryu, unleashes his long-awaited debut solo album "Tanks For The Memories" --- From his early years ruling the Los Angeles radio and cypher scenes, to breaking necks and banging heads with Styles of Beyond via their critically acclaimed seminal debut album "2000 Fold" and their sophomore follow-up "Megadef", through to his work with Mike Shinoda in Fort Minor on their Jay-Z overseen "Rising Tied' album.
Experiencing both mainstream and independent, underground successes, Ryan 'Ryu' Maginn states "'Tanks For The Memories' is a metaphor for the battles I've fought throughout my career in the music business. That would include the bad and the good. You win some, but in my case I've lost a lot as well. In the end, I believe I'll win the war."
The album is entirely produced by Divine Styler, except for the last track which is produced by Apathy. Reuniting with Divine Styler on production was a no-brainer for the 'San Fernando Valley Rambo' as he explains "Divine Styler was instrumental in the development of the Styles of Beyond sound. So it was a very natural process when working together on this album."
CD TRACK LISTING:
01. Radio Pollution (feat. Gravity Christ & Divine Styler)
02. The One
03. Been Doin This
04. Happy Days (feat. Jams, Gravity Christ & Bishop Lamont)
05. The Devil's Got A Plan
06. Who's Next? (Move) (feat. Everlast)
07. Mantis for Lotus (feat. Divine Styler)
08. The Bumrush (feat. Gravity Christ & Tak)
09. Bottom of the Bottle (feat. Jams)
10. Lap of the Gods (feat. Tak & Celph Titled)
11. I Did It To Myself